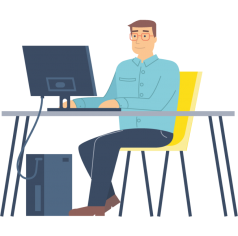 What Are Cloud Services?
Cloud computing is the delivery of IT services over the internet, allowing users to access their documents and work remotely from 'The Cloud'. These remotely accessible cloud services include servers, storage, databases, networking, software, analytics, and intelligence. Cloud computing enables businesses to be flexible and easily scalable due to not having to store information on an internal server, affecting the efficiency of internal processes and the delivery of services. 
Cloud services are managed by a third-party provider and offer businesses a cost-effective solution to increase their IT capacity and functionality. Depending upon the requirements of your business, cloud service packages are relatively flexible, enabling you to pick and choose what software is implemented, ensuring an IT solution that is reliable and ticks every box.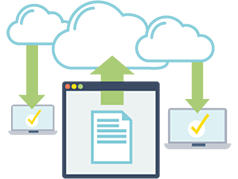 What Are The Benefits Of Cloud Computing?
The implementation of cloud services can offer a business a multitude of benefits including increased efficiency, greater productivity and a simpler way to manage your IT processes. Being able to access information remotely ensures that your staff are no longer limited to only working onsite. This also means that documents can be accessed from all over the globe, allowing for greater flexibility and mobility.
Reduced Costs
Implementing cloud computing can help to vastly reduce or eliminate the following costs:
Investing in and routinely upgrading hardware and software for security and storage purposes

The setting up and running of onsite data centres, and the power required

The cost of an onsite IT support person, responsible for the management and maintenance of the IT infrastructure

The cost of on-premises software licencing
Most cloud service providers charge on a monthly or yearly basis, allowing businesses to access the latest and most secure software without having to invest in its maintenance or infrastructure.
Speed Improvements
Implementing cloud services enable your business to scale easily, either pre-emptively or in response to the digital needs of your workforce. This means that your IT infrastructure is able to provide the resources required to achieve growth, whether that be increased power, storage or bandwidth when you need it most. These services will be able to keep in line with the increase in user traffic, the number and types of devices used to access company information and the growing threat of cyber attacks. 
As employee needs change, so will the requirements of your cloud services which may result in the expansion and enhancement of the applications within your package.
Increased Productivity
Due to not having to maintain onsite infrastructure or overloading internal servers with company information, documents can be accessed quickly, allowing staff to focus on more important and pressing tasks. This also helps to free up the time of the internal IT staff, using their time more efficiently and effectively.
Increased Performance
Cloud services are delivered via a worldwide network of data centres, which are constantly undergoing regular maintenance and upgrades to ensure efficiency and security for users. This results in reduced network latency and provides the opportunity for greater economies of scale.
Better Security
Cloud providers take the security of their applications very seriously, with set policies and intelligent solutions that are constantly analysing data from users to enable the detection and prevention of malicious malware. Through continuous innovation and the upgrading of technology, these providers help protect your data from potential threats.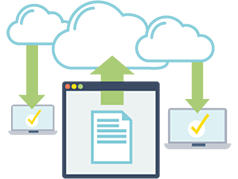 Cloud Services
Cloud based software gives businesses of any size that piece of mind that its most critical of applications whether it be email, appointment scheduling or file access will always be accessible anytime and anywhere.
Office 365 Suite (Cloud software)
Office 365 is changing the way businesses can work. Complete robust and reliable cloud systems that provide fully featured email and file systems. MS Teams is fast becoming a vital office tool for both office and home workers removing traditional geographic boundaries.
Virtual Hosted Desktop
Hosted virtual desktops are great in production environments and large segregated multifunctional sites. They give you versatility of running brand new software on older unsupported equipment that you other wise aren't quite ready to upgrade. They are another option for a large remote workforce connecting into the company's business system.
Cloud File / Email Backup
A belt and braces approach in a data protected world. Secure Cloud and email backup give you reassurance and a peace of mind that your cloud based email and files are backed up securely.
Cloud Migration Projects
Moving your business systems like Email and file structure to the cloud is a big step and change for your company. However it can reap dividends in both functionality and flexibility for your staff, transforming how and the way they work. It's also not as painful as you might imagine.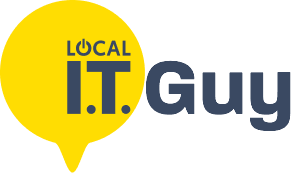 How Can Local IT Guy Help?
Are you looking to discuss your cloud service requirements? I deliver a comprehensive and thorough service, ensuring the cloud services you choose to implement reflect the needs of your staff and the achievement of your business goals. For more information please contact me, and I will be more than happy to assist you. Alternatively, you could give me a call on 01509 807299.
Why look any further than your Local IT Guy for your cloud service needs?